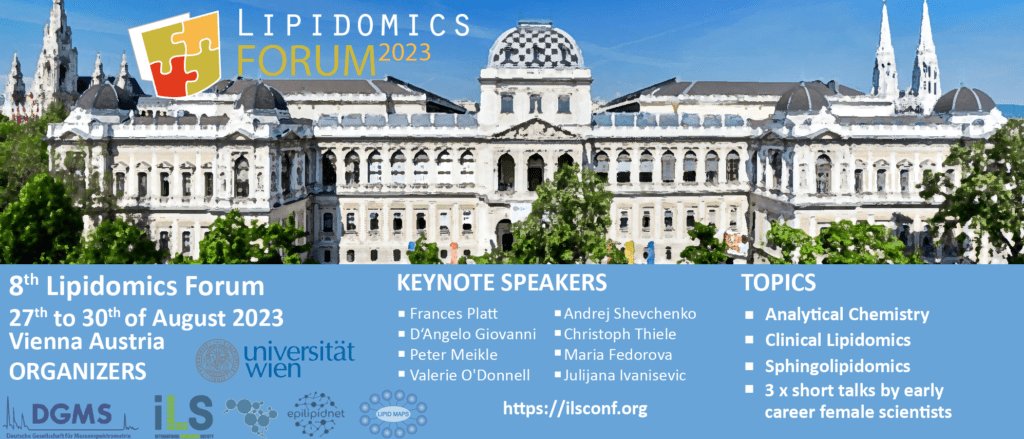 On behalf of the ILS, Lipidomics Forum and the local organizers we cordially invite you to join us for an exciting conference in the UNESCO World Heritage city of Vienna, Austria between August 27th and 30th, 2023. 
We are looking forward to learning about the latest lipidomics research from your presentations, posters, and of course from our keynote speakers Frances Platt, Giovanni D'Angelo, Maria Fedorova, Valerie O'Donnell, Peter Meikle, Christoph Thiele, Zoltan Takats, Julijana Ivanisevic, and Andrej Shevchenko.
We would like to thank our sponsors as well as our fellow networks and societies LIPID MAPS, MANA, EpiLipidNet, and DGMS for supporting the event.
Key dates
Early registration: March 1st – May 31st
General abstract submission: March 1st – April 30th
ECFiL* abstract submission: March 1st – April 30th
*Early career females in lipidomics
Current ILS members receive a discount code. If you already have a membership for 2023, you should see it on your user profile page (please log in first).
If you do not have an active 2023 membership, you can renew it here.
During the registration process, please select one of the "ILS Member" options to enter your discount code to receive a discount of 100 € for regular members and 50 € for student members.